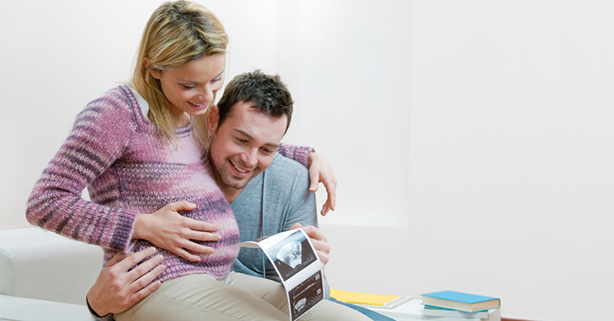 Early, dating and viability scans (6 – 15 weeks)
Why have an early pregnancy scan?
The purpose of this scan is to confirm your baby has a heartbeat, how many babies there are and when your baby may be due.

Parents often find that coming for an ultrasound scan at this stage in pregnancy is reassuring especially if there has been some bleeding. It is also comforting to know all is well in this pregnancy especially if there has been a problem in a previous pregnancy such as a miscarriage or an ectopic pregnancy.

How is the scan carried out?

Normally we would ask you to attend with a full bladder so you can see the image of your baby clearly. However, in early pregnancy (less that 7 weeks), it may be necessary to perform an internal scan (transvaginal scan) to obtain clearer images of your baby and its surroundings.

The Ultrasonographer carrying out the scan will give you a clear explanation of the procedure before the examination and will explain what they can see on the monitor during the scan.

How do I get the results?

After the scan you will be given a report of our findings and the Ultrasonographer will explain what you should do or who you should see next in your pregnancy.

What is included in the cost of the scan?

We will give you a report, pictures and a DVD (over 12 weeks) free of charge of your scan.

If we are unable to see the pregnancy clearly we will rebook you free of charge.